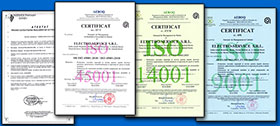 The principle of our market strategy is to build strong and sustainable partherships with our clients, based on the quality of our services and on our technical solutions adapted to their real problems.
Our integrated system of quality management is implemented and certificated in accordance with ISO 9001:2008, SR EN ISO 14001:2015 / EN ISO 14001:2015 and SR ISO 45001:2018 / ISO 45001:2018.
The tests and the measurements are made individually for each repaired equipment, using our own testing benches.
Electro Service S.R.L. is permanently improving its offer of services and products in order to satisfy the growing demands from our clients. Olso we must comply with our evolving desire to achieve excellence.
Our standing offer:
- technical solutions to improve the operating parameters of old generation motors and transformers
- design or redesign of components in the electrical and mechanical fields
- technical consultancy;